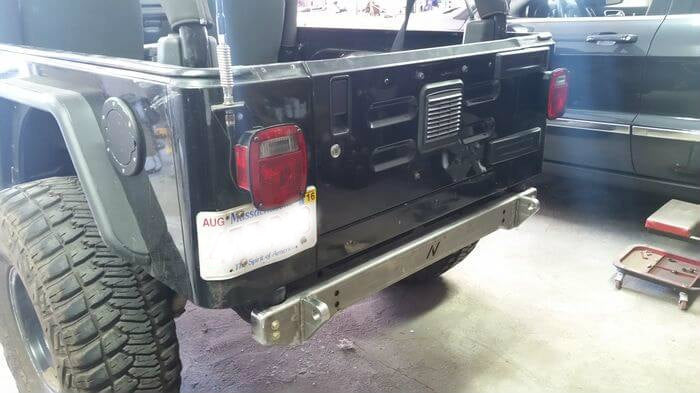 Ultra High Clearance Rear Bumper for 1997-2006 TJ and 2004-2006 LJ (TJ Unlimited)
Bumper mounts to the stock rear crossmember using (10) grade 8 bolts. 4 holes must be drilled in the crossmember for install.
Features:
CNC Laser Cut from 3/16" Steel

CNC Formed for a perfect fit everytime
Fully welded
Wraps around rear crossmember
2 High clearance D-ring clevises
Works with and without body lifts
This bumper is shipped bare metal unless otherwise requested and includes hardware. Bare metal products will require some sanding/paint prep before painting.
Looking for this bumper with a hitch? Check it out here!

Impressive. Most Impressive.
I wanted a well designed, strong, great looking, functional and high quality plate bumper and this is it. The fit and finish is outstanding. It was packaged to survive a nuclear blast and arrived in perfect condition. It came with all of the needed hardware and installed with no problem. Very happy customer.
Fabulous High Clearance Rear Bumper
I used to have a rear bumper and receiver hitch on the rear bumper along with two shackle lugs but I hit the rear bumper MANY TIMES coming down large steps on the Rubicon trail 3 years in a row. I just got back and the Jeep TJ hit once or twice only!!!!! Not only that but we had to use the bumper shackle lugs with an 8000 pound winch to pull my jeep that was pulling a 7000 pound Bronco up the last of Cadillac Hill. Thank God the bumper was bolted to the frame on both sides of the shackle lugs. A lesser attachment system would have bent an ordinary bumper. I also purchased a pair of the custom side brackets which fit perfectly. No drilling or reaming of any holes!!!the only difficulty somewhat was getting nuts and washers waaaaaay back up into position since my hand would not fit. But I used electrical tape to tape the nut to the end of my finger and all turned out well. This was a well-made steel bumper. I would highly advise picking up one for your TJ. Also I have a small lift and 33" tires on my rig so I needed the high clearance.
Very impressed with this bumper
Very impressed with this bumper. Fit first time and when paired with the frame tie in kit was exactly what i was looking for. Also can not say enough about the service I received, including a response to an email on a weekend when they where away from the shop and a personal call to ask if i needed any faster shipping.
Fit like a glove
Fit like a glove, drilled 4 holes in my cross member and bolted right in. Nice low profile.
made in the USA! Couldn't be happier
Extremely impressed with the bumper! Fits very well and gave me a ton of clearance on the back of Jeep. Plus it's made in the USA! Couldn't be happier
Why next venture?
parts inspired by the trail
Our team got into the game after rock crawling, wrenching, fabricating and being inspired to design and build parts for what we love to do: hit the trail.
the team