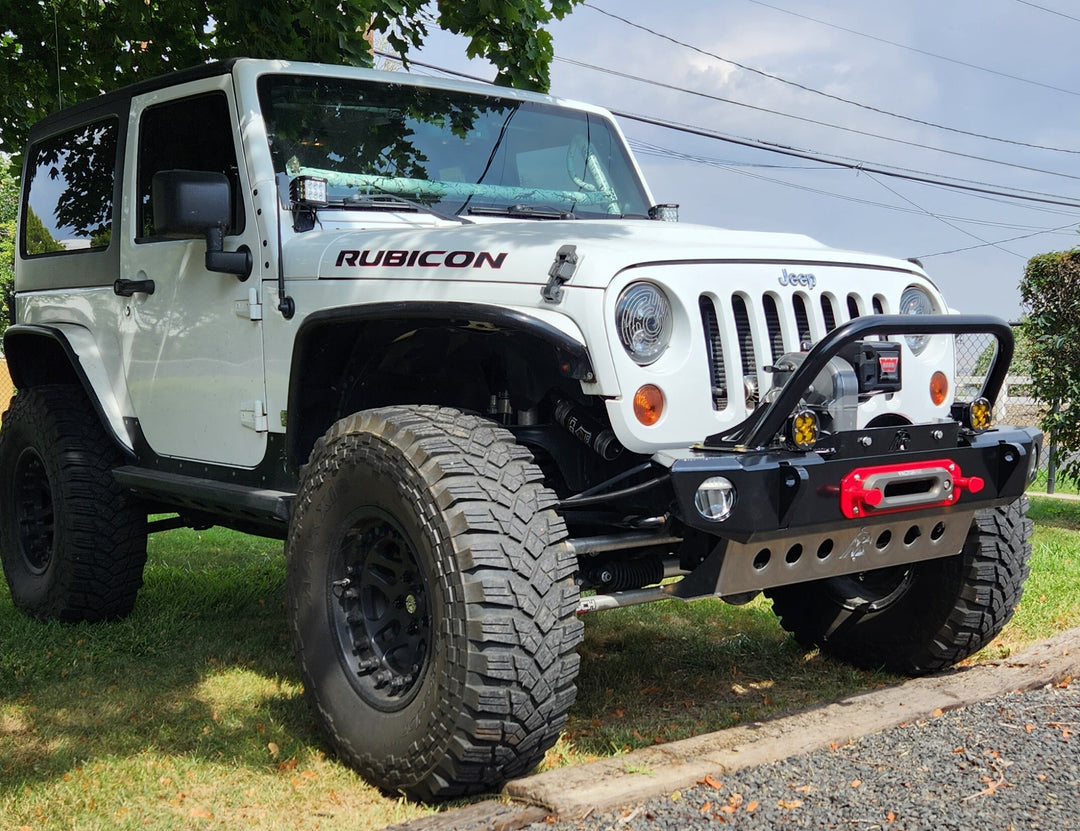 JK Front Bumper - 8274 Aluminum Adventure Series
**NOTE: This bumper will only fit the

Warn M8274 Winch

**
Looking for our Adventure Series styling in a lightweight but stout package? We have modified our Adventure Series bumpers, by changing out nearly every component for a slightly thicker, however lighter weight aluminum component. This particular bumper, is designed for one of the fastest pulling, heavy duty winches available that will bolt onto your JK Chassis: The Warn 8274. This is about the fastest winch you can fit onto the front of your Jeep and is definitely a favorite among the recovery experts we have talked with.


Product Details
Crafted from a combination of 1/4" and 3/16" Aluminum, along with 1" thick steel recovery points welded to a 1/4" thick steel inner winch tray, this rear bumper is both lightweight and stout-where-it-counts so that you can hit the hardcore trails with confidence!

This bumper can be run by itself, as an ultra-high clearance bumper, or configured with the lower front skid as shown. The lower front skid fully protects the Rubicon sway bar disconnect motor -- many on the market only appear to but leave the very bottom or back of the disconnect components exposed.
The tube work shown is a bolt on stinger, available in a 7" height and 11" height as measured from the top of the bumper. The tube work is bolt on, and made from 2" 120 wall DOM Steel. The tube work ties into the bumper's inner steel winch tray when bolted in, offering greater strength and tieing all 3 components (stinger, shell and winch tray) together once fastened into place.


Lighting Options
By default, this bumper comes equipped to reuse your factory/OEM foglights inside the winch tray. If you wish to use the Baja SAE Foglights shown in these pictures, please put that in your order notes or contact us so we can note that in your order!
The display bumper in the product page pictures is shown with LP4 model Baja lights mounted up top. LP6 models will also fit on top of this bumper.

FAQ
What winch can I use with this bumper?
Can I use this Front bumper with my factory front skid plate that came with my steel bumper package?

No. Due to the increased approach angle and clearance we were after, the bottom of this bumper sits much higher than the factory bumper and leaves a significant gap. The factory steel bumper package front skid that bolts to the bumper simply doesn't reach high enough to bolt in place.

Can I flat tow using the recovery points on this bumper?

Yes. The recovery points are machined to match the size of most tow bar pins -- thus eliminating the need for bolt-on adapters anywhere. The recovery points are connected directly to the frame via the steel winch tray and do not rely on the aluminum bumper body whatsoever -- the aluminum bumper body takes no load while towing.

Can I order this bumper Powder Coated?

Yes. However, the lead time can vary greatly depending on the choice of powder coat and other things in the queue. Please call us if you would like to order this bumper powder coated in a color other than our standard texture black.

What Foglights can be mounted in this bumper?


There are 3 different mounting patterns found on OEM/Factory Fog Lights. Most JK factory foglights will fit, however "Rockhard" edition steel bumper foglights will not work. Need help identifying which lights you might have? Click here!
Additional Details 
Products are designed and fabricated to fit vehicles that have varying tolerances from the factory, minor hand fitting may be required. 
Products are shipped bare metal unless otherwise specified by the customer. Bare metal products may have scratches or surface imperfections as a result of raw material handling, manufacturing, and fabrication. However, these imperfections are easily covered up with a textured powder coat finish. Additional finishing, sanding, and prep work may be required if you wish to also have them finished with a smooth powder coat or paint.

Projected lead times are estimates only, and are subject to changes due to production realities, including material and labor availability and sudden variability in order volume. Lead times are not guaranteed, but we do guarantee that we are hard at work trying to get the best product we can produce and into our customers' hands as quickly as possible.
All Next Venture Motorsports products are laser cut, CNC formed, and hand-weld with pride in the USA. We are a Colorado-based business, and welcome visitors by appointment at our Grand Junction, CO headquarters. We hope to see you out there on the trail soon!
Why next venture?
parts inspired by the trail
Our team got into the game after rock crawling, wrenching, fabricating and being inspired to design and build parts for what we love to do: hit the trail.
the team